StormGain Review
At mybrokerstar.com you can find the best reviews of the newly launched and most promising companies such as StormGain.
StormGain is a crypto trading platform launched in the summer of 2019, by a team with many years of experience in finance and technology, they delivered a user-friendly platform for those who want some serious leverage with a multiplier up to 100x to profit from either the growth or drop of the cryptocurrency market and from long-term investments in crypto assets. As a newborn company who aims to rapidly conquer the crypto world is the official sponsor for Newcastle United, present on Newcastle T-shirts in 2019/2020
Account Opening
StormGain has a fast and easy registration process compared to many other cryptocurrency trading platforms, that in many cases you'll need to pass a multi-stage verification which sometimes lasts several days before you can start trading. With Stormgain, you can dive into the cryptocurrency market right after filling in one simple form with your e-mail and password.
Free Demo Account
Using a demo account is completely free and does not require special knowledge. Demo accounts are funded with 50,000 USDT (Tether, equal to 1 USD), that one can use to try trading with StormGain. The functionality of demo accounts is totally similar to that of real accounts. You can set both a market and a pending order, set a stop-loss and take-profit, as well as turn on the deal volume auto-increase system. It will allow you to avoid closing your deal after a margin call when the loss is close to 50% if you have funds in your account.
One of the interesting features of demo accounts is the ability to set various alerts. They will allow you to constantly be aware of what is happening in the cryptocurrency market. Thanks to the quick process when opening accounts, you can start using a demo account in seconds, and when you fully master the platform's functionality, you can switch to a real account in just a few clicks.
Demo accounts will be useful for both novice traders and those who have cryptocurrency trading experience. Everyone can try crypto trading without having to deposit their own funds, in other words, there is no financial risk. On demo accounts, you can use the multiplier up to 1:100, which provides various opportunities for testing your strategies. Another important factor is that if you don't have any experience in trading cryptos, you can learn how to trade in the special educational part directly in the StormGain application.
Products
Exchange
6 crypto-wallets with easy exchange between them, also take advantage of low exchange commissions
Use USDT for exchange which is just almost similar to USD
Crypto trading
Trade with a multiplier of up to 100x
100% Liquidity, 24/7 trading on every instrument offered
Wallet
StormGain has 6 Built-in wallets to hold and exchange your assets, so you have quick access because they are stored in one place.
Loyalty Program
StormGain's eligible clients will be assigned a status ranging from Standard to VIP on the basis of their balance and/or trading volume.
Depending on your status, you will benefit from reduced trading/exchange commission and higher interest on your total deposit.
How does it work?
You will receive the status for which you qualify either shortly after depositing the necessary funds into your account or at 21:00 GMT on any day of the month.
Here is an example to explain things better: Imagine your current balance is below 500 USDT. As soon as you deposit enough to make it over 500 USDT in total, your status will be automatically upgraded to Gold.
Alternatively, you could open a position that would take your trading volume above the 150,000 USDT monthly limit and be awarded Gold status at 21:00 GMT that very same day.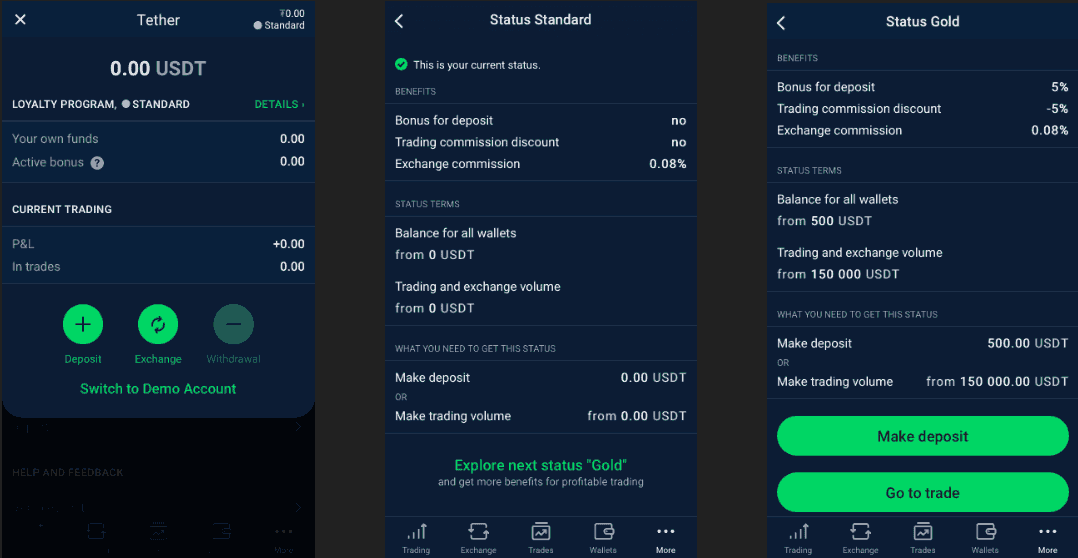 How long does it last?
Any status you receive will remain valid for a period of one calendar month counting from the day it was first awarded.
When this month is over, your status may be extended, upgraded or downgraded depending on your total account balance or trading volume.
For instance, let's say you qualified for Diamond status last month on the basis of your account balance.
If you still have 5000 USDT or more in your account (or have traded more than 2,250,000 USDT), you will keep your Platinum status for another month.
Conversely, if your account balance drops below the 5000 USDT threshold and your trading volume doesn't meet the minimum for Platinum, you will revert back to Gold status for one month.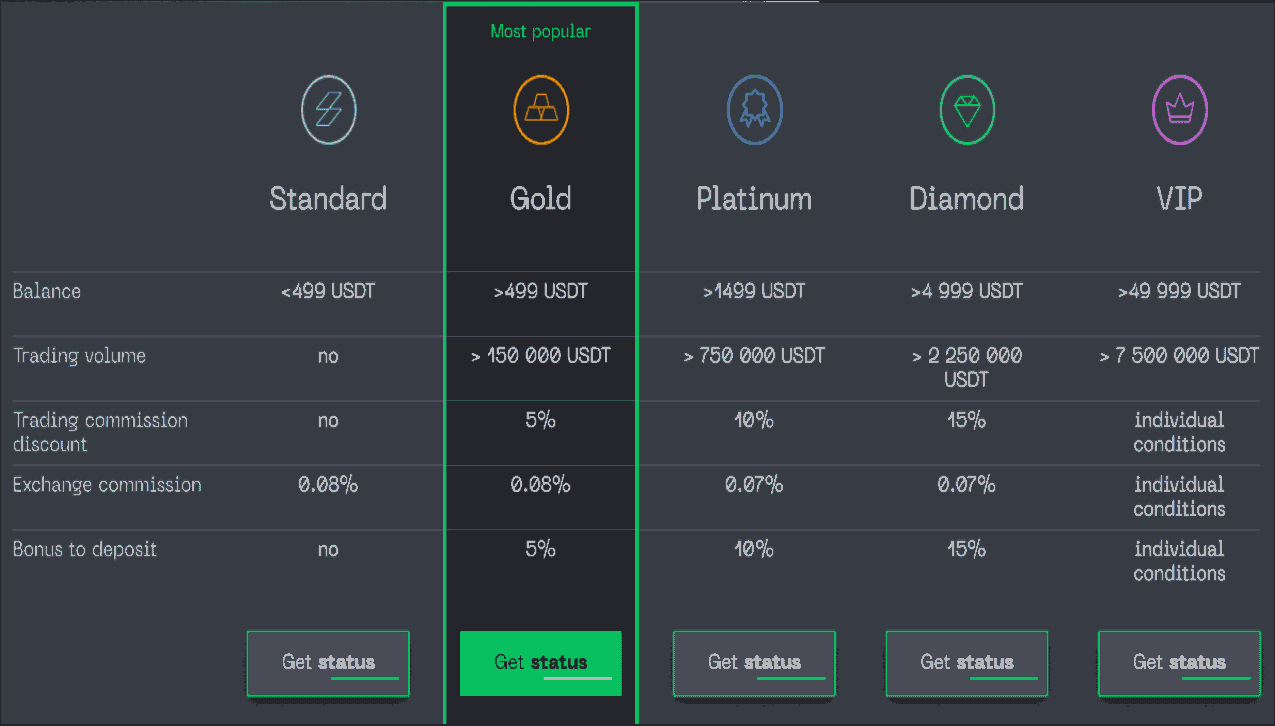 See relevant articles here:
StormGain - Trade on demo and earn real money
StormGain unveils loyalty program
StormGain «Interest on Deposits» Promotion
The biggest tournament of trading is here