IQ Option Review
At mybrokerstar.com you can find the best reviews of the highest quality Trading companies such as IQ Option.
IQ Option is one of the world's most popular online platform for trading that makes the customers trade a range of financial instruments and assets. Founded in 2013, it became one of the fastest growing online trading platforms and claims to have over 20 million account holders from around the world. Based in Cyprus and regulated in the EU by the Cyprus Securities and Exchange Commission (CySec), the company is fully compliant with the legislation put forward by the commission and fully authorized to sell its products to clients in a number of jurisdictions.
IQ Option is a comprehensive trading platform that provides its users with a wealth of alternative and after starting out as a binary options broker.
Account Opening
IQ Option registration is very fast and doesn't require you to provide a lot of personal information during the process, however, you must provide real information because later it will be necessary for deposits and withdrawals
You can deposit via e-wallets like Neteller, Skrill, PayPal, WebMoney, by Visa / Mastercard and your funds will be credit instantly or by bank transfer that will take up to 3-5 business days, all deposits and withdrawals are free of charge.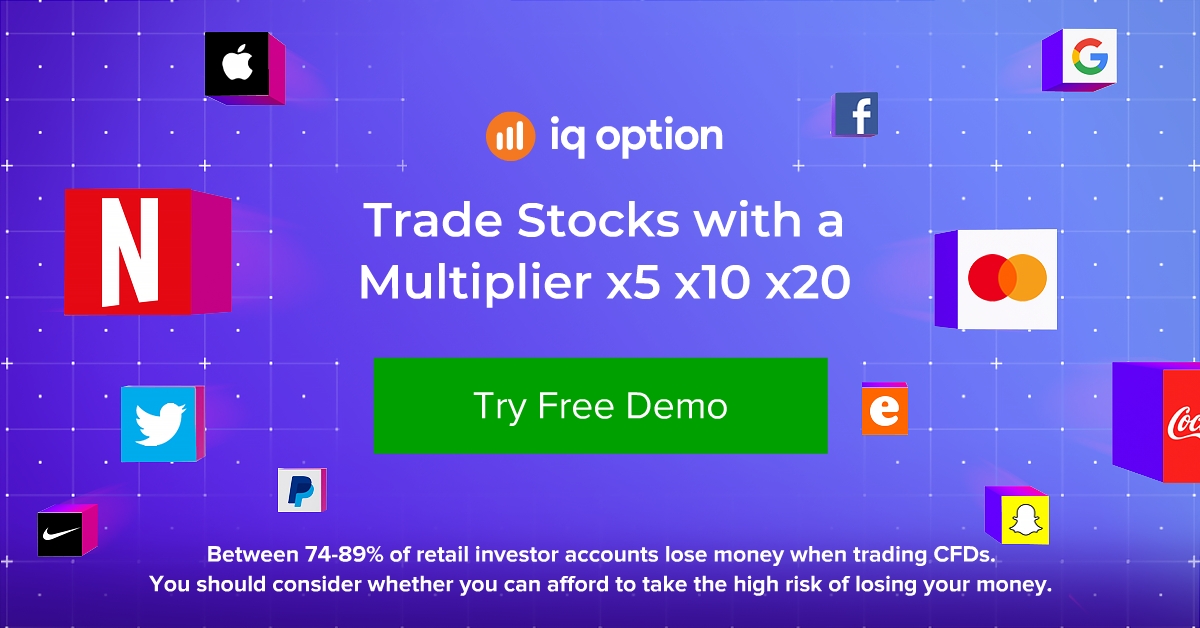 Free Demo Account
Like many other trading platforms, IQ Option also offers a practice account that gives users the opportunity to increase their trading skills. The advantage of IQ Option Demo Account that makes it stand up among competition is that there is not a time limit or any risk of losing money. The trader is able to explore all the available features in order to find out the strategy that suits him. The creation of a demo version at IQ Option is a matter of a few seconds and the user will automatically receive $ 10,000 in virtual money which he can refill at any time free of charge.
Asset Coverage
The platform enables customers to trade Contracts for Difference (CFDs) on stocks from over 170 different companies, Cryptocurrencies (Bitcoin, Ethereum, Litecoin, Ripple, Monero, Zcash, Omisego, IOTA, and Dash) , Exchange Traded Funds (ETFs), Forex pairs like EUR/USD, GBP/USD and 114 more and a range of various digital options.
Leverage
Leverage increases the user's initial investment by a certain percentage but if the price goes in the wrong direction the losses will multiply accordingly. So it should be used with caution


IQ Option Leverage/Investment Multiplier for EU and Non-EU Countries
| | | |
| --- | --- | --- |
| Asset Class | Retail EU Traders | Non-EU Countries & Professional EU traders |
| Standard Crypto CFDs | Up to 1:2 leverage | Up to 1:10 leverage |
| Forex | Up to 1:30 leverage | Up to 1:1000 leverage |
| Stock CFDs | Up to 1:5 leverage | Up to 1:20 leverage |
| Commodities | Up to 1:20 leverage | Up to 1:150 leverage |
| ETFs | Up to 1:5 leverage | 1:100 leverage |
| Special Cryptocurrency CFDs | Not available to retail EU traders | Up to 1:100 leverage |
| Stock Indices | Up to 1:5 leverage | 1:150 leverage |
Fees
It is very important for each trader to understand the fees IQ Option charges. Unlike some other Brokers, IQ Option has a no commission policy, which means there are no fees e.g. for the execution of trades. What IQ Option will most likely charge you with is the spread and in some cases with the overnight fee. There is also the inactivity and withdrawal fee.
Regulation
Licensed by CySEC
CySEC monitors the activities of companies rendering financial services to ensure their compliance with the laws and regulations of the Republic of Cyprus and the European Union.
EEA-Authorized
IQOPTION EUROPE LTD is licensed and regulated in Cyprus, a European Economic Area (EEA) country which allows us to offer certain products and services to other countries.
In register of FCA
The Financial Conduct Authority (FCA) is a financial regulatory body in the United Kingdom, which operates independently of the UK government, and is financed by charging fees to members of the financial services industry. FCA regulates financial companies providing services to consumers and maintains the integrity of the UK's financial markets.
In register of Consob
The Commissione Nazionale per le Società e la Borsa (CONSOB) is the public authority responsible for regulating the Italian financial markets. The purpose of the activities of CONSOB is to protect the investing public. The agency reliably maintains its authority and competence to that end, conducting investigations into potential infringements, insider dealing, and market manipulation.
In register of CNMV
The National Securities Market Commission (Comisión Nacional del Mercado de Valores, CNMV) is a Spanish government agency responsible for the financial regulation of the securities markets in Spain.
It is an independent agency that falls under the Ministry of Economy and Finance of Spain. The aim of CNMV is to ensure stability and transparency of financial markets, protect investors and make sure that brokers and intermediaries behave correctly.
In register of Regafi
The Financial Agents Register (Regafi) lists all companies, French or foreign, that have been granted authorizations to operate in France by the ACPR. It also lists the agents of French payment institutions, operating either in France or in other States party to the agreement on the European Economic Area.
In addition, the Financial Agents Register lists companies to which the ACPR has granted an authorization to conduct banking activities in Monaco.
In register of AFM
The Netherlands Authority for the Financial Markets (Autoriteit Financiële Markten, AFM) is the body responsible for regulating financial markets in the Netherlands. This includes regulating the behaviour of all parties involved with the savings, loans, investment and insurance markets, as well as all organizations that provide and issue financial products, including stock exchanges.
AFM goals are to ensure the smooth operation of the financial markets and to make them more accessible.
In register of Finantsinspektsioon
The Financial Supervision Authority (EST: Finantsinspektsioon) is a financial regulator in Estonia. One of its main functions is to ensure that financial institutions fulfil their obligations to customers. In addition, the FSA deals with systemic risks in the financial sector, contributes to Estonia's financial stability and fights economic crimes.
In register of ČNB
The Czech National Bank (Česká národní banka, ČNB) is the central bank and financial market supervisor in the Czech Republic. In accordance with its primary objective, the CNB determines monetary policy, issues banknotes and coins and manages the circulation of currency, the payment system and settlement between banks. It also performs supervision of the banking sector, the capital market, the insurance industry, pension funds, credit unions and electronic money institutions.
Trading Platforms
IQ Option has developed the trading platform by themselves so it helps them to meet their clients' wishes and implement new features at any time.
See relevant articles here: