Skrill Review
At mybrokerstar.com you can find the best reviews of the highest quality eWallets such as Skrill.
Skrill is a digital wallet. Users can deposit funds onto it and spend it anywhere that accepts Skrill payments – or send money to each other. Payment processing with Skrill becomes incredibly simple. There are several options such as credit cards, cash and email- transactions.Skrill is an e-commerce business that allows payments and money transfers to be made through the Internet, with a focus on low-cost international money transfers. Launched in 2001 and based in London it is owned and operated by Skrill Limited, a UK-based company registered as a Money Service Business with Her Majesty's Revenue and Customs (HMRC), regulated by the Financial Conduct Authority and licensed to operate Skrill prepaid card only in EUR within the European Economic Area, the company was known as Moneybookers and rebranded to Skrill in 2011, since 2015 Skrill belongs to the Paysafe Group, along with former competitor Neteller and prepaid payment method Paysafecard.The platform becomes one of the first online e-wallets to facilitate online payments. The main advantage of considering Skrill is how easy it is to send, accept, and store payments to a wide range of countries.
The mobile app is quite simple and intuitive to use, as the user interface is extremely beginner-friendly. Each of Skrill's features has a fee attached to them which displayed under their respective option. This way there shouldn't be any unpleasant surprises when making a transaction. This app is very practical as it allows you to use your Skrill account on the go, allowing you to send and receive money and crypto whenever you need it. With Skrill, you get the ultimate security that safely transfers high value money to your account. Your passwords and critical information is kept confidential to make sure there are no chances of any mishaps. With anti-fraud screening features, each and every transaction to and from your account is monitored which ensures high security.
Account Opening
Starting to use Skrill is easy. You only need to provide your name, email and password and you can register a Skrill account. No further information will be required from you until you initiate a deposit or receive funds in your Skrill account.
Steps on how to open a new Skrill account
Step 1: Go to Skrill Sign up page - link here - complete your First name, Last name, Country, Currency, Email and set your account password (At least 8 characters containing at least one letter and one number or symbol) and click on the " Register Now " button.
Step 2: Below you have to specify your personal details as it stands at your passport or id, otherwise you'll not be able to complete the account and identity verification procedure.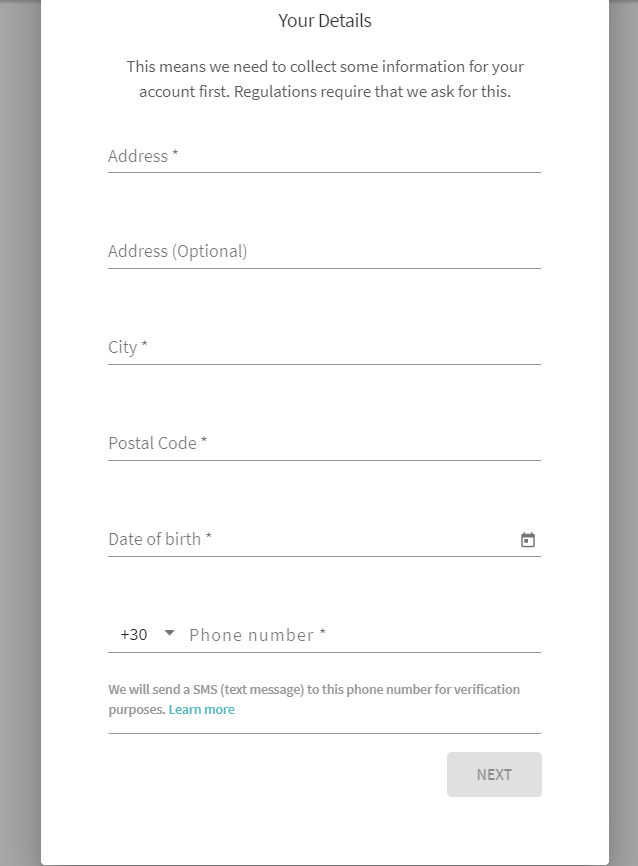 Step 3: Increase the security level of your Skrill account.

The PIN Authentication is an additional security feature that helps you increase the security level of your Skrill account and it is used as an additional challenge when logging in or when you complete a transaction.

The two Factor Authentication is an extra layer of security that requires not only a password and email address but also something that only that user has on them,
i.e. a 2FA code sent to their mobile device through a software security token.
Using an email address and password together with a 2FA code makes it harder for potential intruders to gain access and steal that person's personal data or identity.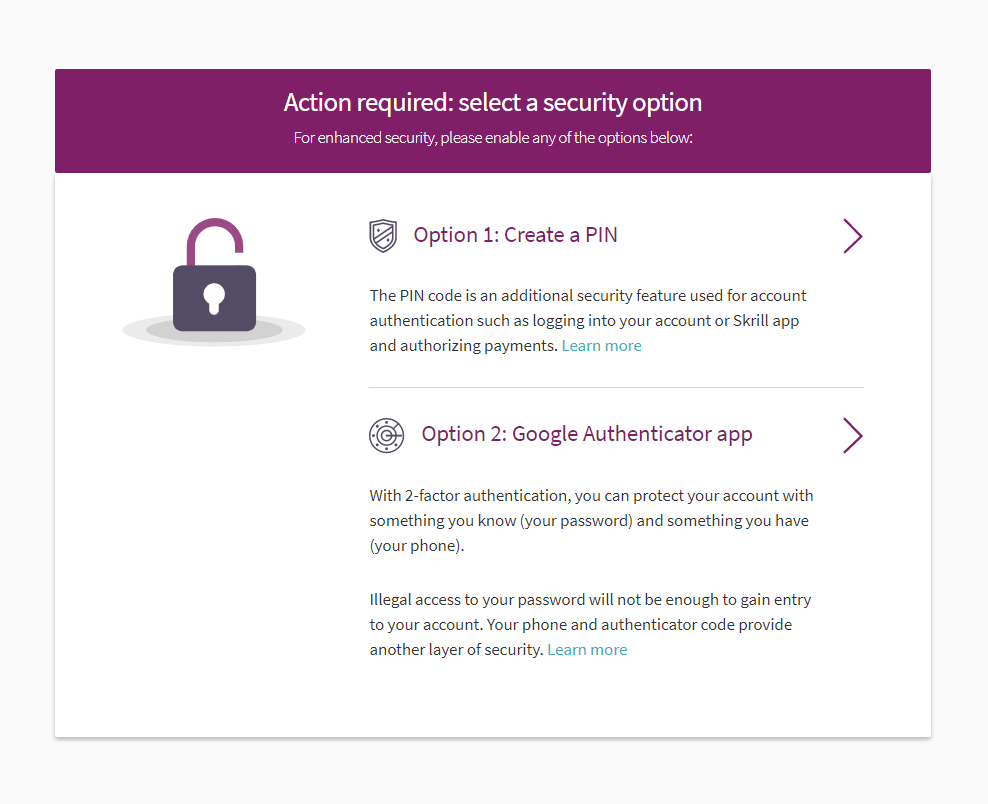 Your account is now live but you should make a deposit in order to activate all the features.
When you make your first successful deposit or receive funds in your Skrill wallet the option to verify your account will become available. The Settings section of your account will lead you to the Verify your Account page where all remaining verification steps will be displayed. To complete the verification of your account you have to upload a clear, legible, valid and unaltered scanned color copy or photo of one of the following documents:
• The front and back of your driving license
• The photo page of your passport
• Front and back of your national ID card
• Address verification document
• Face match/selfie picture of you
Skrill Loyalty Program
Skrill announced a new loyalty program called Knect that lets you earn points and receive rewards with every transaction you make.

Knect is completely free to join, wherever you make a financial connection using Skrill, whether it's with friends, family, businesses you love or sites you like to browse – you'll earn points you can exchange for a variety of amazing rewards. There will be a wide variety of rewards you can redeem your points for. Please refer to the 'Redeem loyalty points' section within your Knect dashboard, for all currently available rewards, please note that it must be available in your country and you must be a current Skrill account holder of an active and fully verified Skrill Account, below check the list of countries that Loyalty program Knect is now live (more countries will be live soon).
Austria, Bangladesh, Belgium, Bulgaria, Croatia, Cyprus, Czech Republic, Denmark, Dominica, Estonia, Egypt, Finland, France, Germany, Greece, Hungary, Iceland, Ireland, India, Latvia, Liechtenstein, Lithuania, Luxembourg, Malta, Monaco, Morroco, Netherlands, Norway, Nigeria, Puerto Rico, Russia, Pakistan, Poland, Portugal, Qatar, Republic of Congo, Romania, Singapore, Slovakia, Slovenia, Spain, Sweden, United Arab Emirates,UK
If you are eligible you sign up in the Knect program by:
a) Logging in to your existing Skrill Account
b) Selecting 'Knect ' using the left side navigation
c) Agreeing to the Skrill Knect Loyalty Programme Rules and signing up.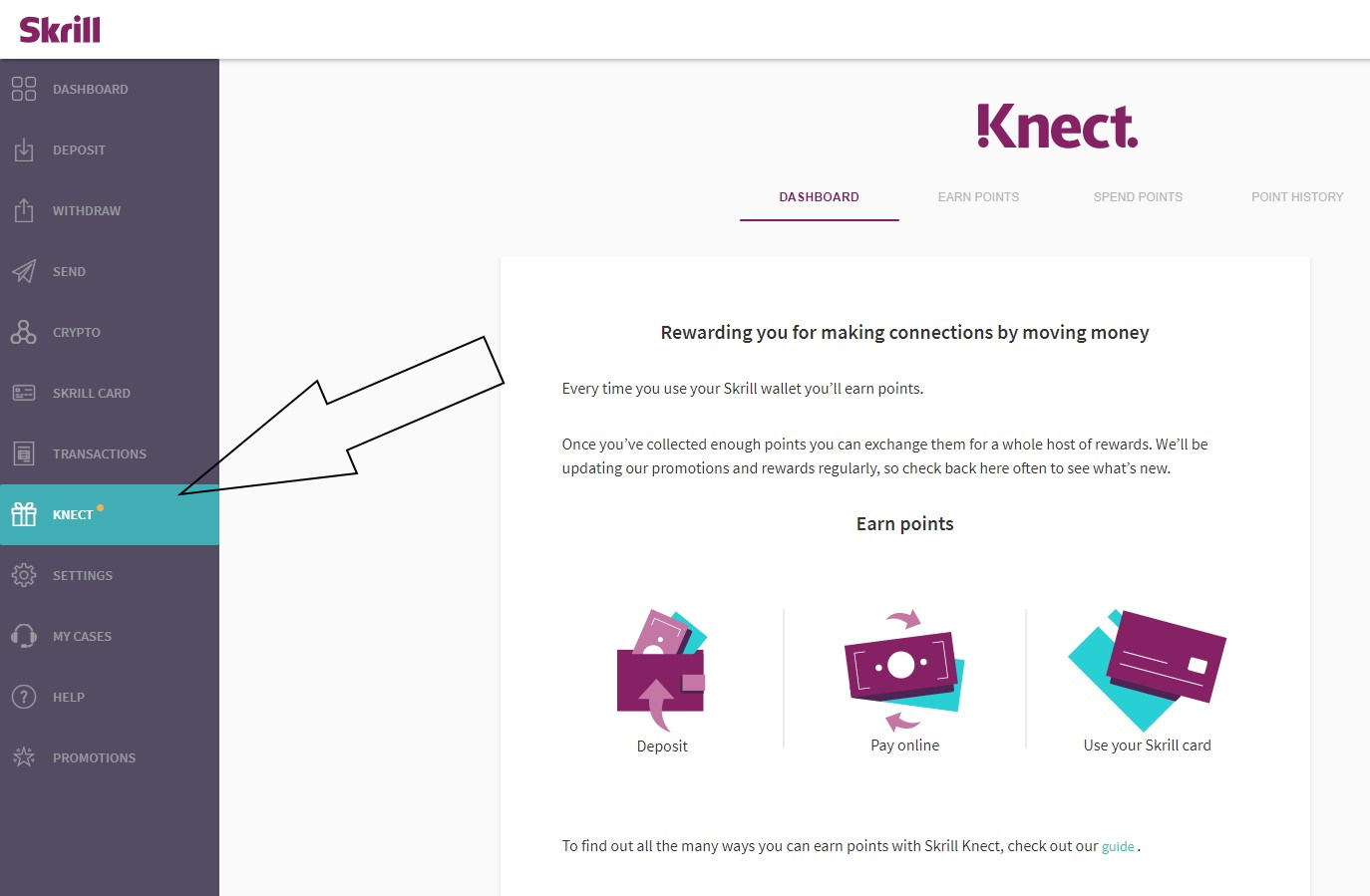 You earn points by conducting any of the below listed qualifying transactions.
Deposit to Skrill
EUR 1 = 1 Loyalty Point
Withdrawal
EUR 1 = 1 Loyalty Point
Skrill Prepaid Mastercard® transactions
EUR 1 = 1 Loyalty Point
Send money to another Skrill Account Holder
EUR 1 = 0.5 Loyalty Points
Transfer to merchant
EUR 1 = 0.25 Loyalty Points
Purchases of interest in one or more Supported Cryptocurrencies
EUR 1 = 1 Loyalty Point
Sell of interest in one or more Supported Cryptocurrencies
EUR 1 = 1 Loyalty Point
Transfer of interest(s) in one or more Supported Cryptocurrencies to an Existing Customer(s)
EUR 1 = 0.5 Loyalty Points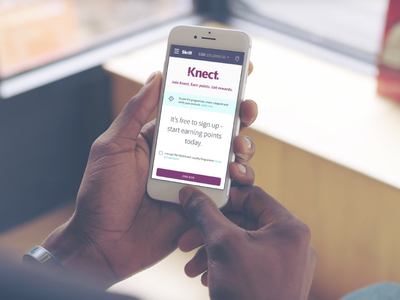 Fees
The regular Skrill fee for sending money is 1.45%, min EUR 0.50. (A higher one-time fee of 20%, min. EUR 30 may apply if you haven't made any deposit to your Skrill account, or have deposited only via NETELLER, Paysafecard or BitPay). You will see the applicable fee before you complete your transaction.
No fee when you use the Skrill money transfer service to send directly to a bank account. Receiving money or closing your account is also free of charge.
For transactions involving currency conversion, Skrill adds a fee of 3.99% to our wholesale exchange rates. This charge helps protect both parties from the volatility and risk associated with foreign exchange markets. It may vary according to your account status. Skrill exchange rates are updated throughout the day.
Free deposits via Mastercard and Visa (available in all countries).
If you do not use your Skrill account for 12 months and keep a balance in it, you will be charged a monthly service fee of 5 Euro (or account currency equivalent). The fee will be deducted monthly from the available funds in your account until your balance is zero. Skrill will not charge your credit card or bank account and will not cause your account to go into a negative balance.
The withdrawal fees vary depending on the withdrawal option.
Here is a general overview:
Withdrawal to Bank account– flat fee of EUR 5.50
Withdrawal to VISA - 7.5%
Withdrawal to mobile wallet - 1.45% (min. EUR 0.50)
ATM withdrawal with Skrill Prepaid Mastercard® - 1.75%
Skrill Prepaid Mastercard®
Free of charge: Paying in shops, restaurants or online, receiving cash, Online statement, Pin re-issue
Fees : 10 EUR annual fee, 3.99 % FX fee, 1.75 % ATM fee
Skrill prepaid card is only available to residents of authorized European Economic Area (EEA) and a few other countries.
The full list reads:
Austria, Belgium, Bulgaria, Croatia, Cyprus, Czech Republic, Denmark, Estonia, Finland, France, Germany, Greece, Hungary, Iceland,Ireland, Italy, Latvia, Liechtenstein, Lithuania, Luxembourg, Malta, Monaco, Netherlands, Norway, Poland, Portugal, Romania, San Marino, Slovakia, Slovenia, Spain, Sweden, Switzerland, United Kingdom

Virtual Prepaid Mastercard®
The first Skrill Virtual Prepaid Mastercard® is free, and there is no monthly or annual service fee. You are entitled to one virtual card at a time. The cost of any subsequent card is 2.50 EUR.
Cryptocurrencies
With the Cryptocurrency trade feature you can exchange your Fiat or Bitcoin balance against one or more of the available cryptocurrencies and profit from the price fluctuations. If you are new to crypto, Skrill makes it simple. With the "Send Crypto" option, you instantly send cryptocurrency to another Skrill customer from your available crypto balance.Bitcoin / Bitcoin Cash is a digital currency that allows you to quickly and easily add money to your Skrill account from your Bitcoin (BTC) or Bitcoin Cash (BCH) wallet(The service is currently available in selected countries only). Skrill payments are instant. This means that you can buy Bitcoin instantly from an exchange or broker using Skrill.Skrill charges comparably high fees from merchants like Bitcoin exchanges. This results in rather high fees for cryptocurrency purchases of up to 5%. Furthermore, there is a smaller selection of marketplaces offering payment with Skrill. Currently, you cannot send cryptocurrency to a merchant or a crypto trading platform. You can make an exchange by creating an instant, conditional or recurring order.The Recurring order option allows you to buy one or more cryptocurrencies for a predefined amount at regular bases. You have also the possibility to set an alert for when a certain price level is reached. A conditional order allows you to buy or sell crypto for a certain, predefined price. When the desired price condition is reached the exchange is automatically made. With Skrill you can convert 40 different fiat currencies into Bitcoin, Bitcoin Cash, Ether, Ethereum Classic, Litecoin, Stellar, Ripple, and 0x. Then you can sell back again when the time is right. Currently, you cannot send cryptocurrency to a merchant or a crypto trading platform.
Supported coins & blockchains : Bitcoin (BTC), Litecoin (LTC), Ethereum (ETH),Binance Coin (BNB), Ripple (XRP), Stellar (XLM),Zcash (ZEC),Dash (DASH),TRON (TRX),Bitcoin Cash (BCH),Tezos (XTZ),Cosmos (ATOM),Ethereum Classic (ETC),GoChain (GO),POA Network (POA),VeChain (VET),Wanchain (WAN),Callisto (CLO),Kava (KAVA),ICON (ICX),TomoChain (TOMO),Zcoin (XZC),Kin (KIN),Nimiq (NIM),Thunder Token (TT),Aion (AION),Theta (THETA),Dogecoin (DOGE),Ontology (ONT),Groestlcoin (GRS),Qtum (QTUM),Viacoin (VIA),IoTeX (IOTX),Ravencoin (RVN),Zilliqa (ZIL),Waves (WAVES),Aeternity (AE),Nebulas (NAS),Decred (DCR),Algorand (ALGO),Digibyte (DGB),Nano (NANO),Harmony (ONE),+160k more assets supported...
Limits
One of the limitations of Skrill is the inability to withdraw more than $1,000 within any 90 day period. However, these limits can be increased to $8,999.99 by completing the postal address and identity verification processes.
At present, Skrill does not provide service to the following countries. This list is subject to change:
Afghanistan, Angola, Barbados, Benin, Burkina Faso, Cape Verde, Comoros, Crimea, Cuba, Djibouti, Eritrea, Faroe Islands, French Polynesia, Gambia, Greenland, Grenada,Guadeloupe, Guyana, Iran, Iraq, Japan, Kyrgyzstan, Lao People's Democratic Republic, Libya, Macao, Martinique, Namibia, New Caledonia, Niger, North Korea, Palau, Reunion,Samoa, Sudan (North and South), Suriname, Syria, Tajikistan, Togo,Turkmenistan


Multi-Currency
Skrill has now new functions: Multi-currency accounts + Exchange service. This service allows clients to hold different currencies in one Skrill account (= 1 Customer ID). Skrill is globally enabled for Skrill Ltd, and INC accounts are out of scope. It supports all currencies and its transaction fee is standard FX fee 3.99% Skrill users have one primary account (when the customer is registering the account) and secondary accounts for every new currency added.
Skrill also provides exchange services that allow customers to send/split the money from one of their multi-currency balances to another. An Exchange section is available on My Account. Skrill deposits are also multi-currency. Customers can select the currency balance they want to make the deposit in - selecting a specific currency creates a separate multi-currency account in the wallet, if such does not already exist.
Selecting a specific currency for the deposit does not mean that the deposit will be processed in that currency - it will only create a separate multi-currency account in that currency. Skrill Withdrawals are also easy to operate. The user selects the balance from which to withdraw the funds. Using Skrill you can send money and wallet checkout: You can send money to other users from each of the created balances. The customer selects the balance to send the funds from. You can also select the currency balance they want to use for balance payments on the Wallet Checkout. Aside from sending, you can also receive money. If a customer receives money in a currency for which they do not have a currency account, the funds are directly added into their primary balance after FX conversion. However they receive money in a currency for which a currency balance account already exists, the funds are added into that account without FX conversion.
Vip program
To become a VIP member you just have to use your Skrill wallet and fulfill Skrill's obligations with a simple KYC check. The more you transact the more VIP benefits and rewards you'll achieve. In a three month period (Quarter 1: 1 January – 31 March, Quarter 2: 1 April – 30 June, Quarter 3: 1 July – 30 September, Quarter 4: 1 October – 31 December) transfer at least €6.000 to merchants or the equivalent in your chosen currency to become a VIP member. Your account will automatically become VIP when you reach the minimum transfer criteria, just look for the *VIP* icon in the account status section on your Account Overview.
The VIP members enjoy 24/7 access to help, if you become a Silver member (and above) you also have an account manager, available during office hours five days a week. By reaching higher VIP Levels, you will have many benefits, like lower FX currency fees, free prepaid Mastercard, higher transfer limits, special promotions and extra security. You could also open multiple currency accounts, order and use the Skrill MasterCard for free depending on the VIP level.
The Skrill VIP levels & benefits are :
Bronze → Transact over € 6000 in a quarter. 24/7 VIP Care. Send Money Fee 1.45% (Min.Fee €0.50). Send Money Fee cap/ no cap. Wallet Currency: EUR, USD 1.50%
Silver → Transact over € 15000 in a quarter. 24/7 VIP Care, Multi-currency account (+1 account). Free send money Fee. Send Money Fee cap/ zero. Buy or sell wallet currency: EUR, USD 1.50%. Buy or Sell Other Wallet Currencies 3.00%
Gold → Transact over € 45000 in a quarter. 24/7 VIP Care, Multi-currency account (+2 accounts). Free send money Fee. Send Money Fee cap/ zero. Buy or sell Wallet Currency: EUR, USD 1.50%. Buy or Sell Other Wallet Currencies 3.00%
Diamond → Transact over € 90000 in a quarter. 24/7 VIP Care, Multi-currency account (+3 accounts). Free send money Fee. Send Money Fee cap/ zero. Buy or sell wallet currency: EUR, USD 1.50%. Buy or sell other wallet currencies 3.00%.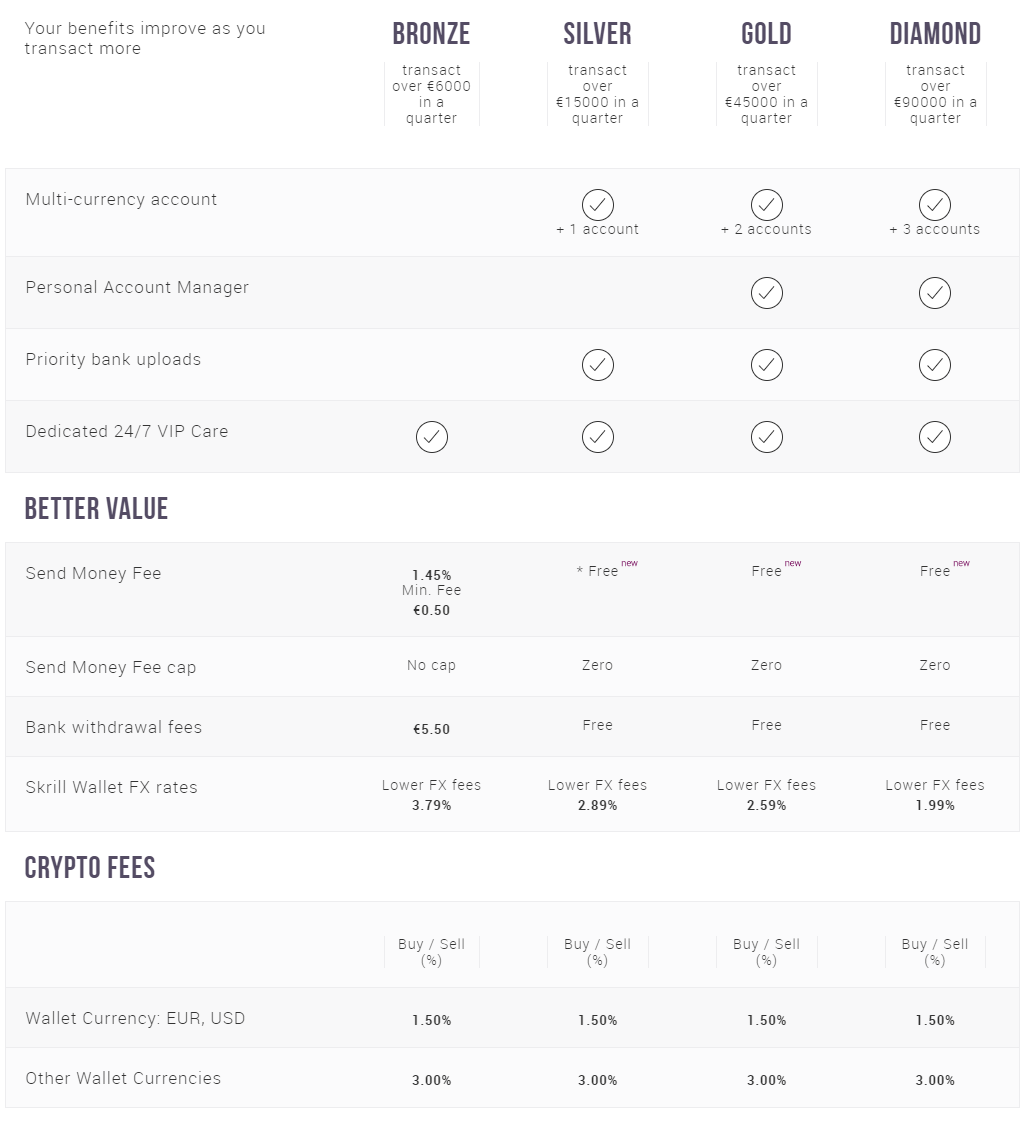 Money Transfer fee of 1.45% is applied to members of certain countries and VIP levels
See relevant articles here :
Neteller & Skrill reduces the P2P for newly registered customers
Skrill and Eightcap Exclusive Trading Credit Bonus