Mybrokerstar.com reviews all Investment Opportunities for you and recommends only the ones, which meet our high standards in user experience, risk and outcome. Our latest recommendation is IBAN WALLET
Iban Wallet At Glance
Iban wallet is a European fintech company with an online investment platform. The Iban platform allows users to invest in a wide number of products with diverse interest rates and terms by offering an easy, passive management experience. It is an online marketplace for investment with a mission to facilitate the free and efficient movement of capital globally. Iban's projected returns can come as low as 2.5% or as high as 6%.
Iban Wallet Review
Iban Wallet is an online platform that acts as a passively managed investment portfolio. This means it is associated with mutual and exchange-traded funds (ETF) where a fund's portfolio mirrors a market index. The platform allows you to deposit funds into a number of different account types. Each one of these accounts comes with a projected annual yield. The initial yield is 2.5% per year, and it can rise up to a maximum of 6%. Note that this is the 'projected', not the guaranteed percentage as this is not a secured outcome of the interest rate that is offered. However, all investment accounts include such risk, because annual yields can shift at any given time. If you choose the standard Iban account, your interest will be paid out daily, and the platform allows you to make a withdrawal at all times. This is one of the main benefits of using this particular provider. You won't be trapped into lengthy investment terms. However, Iban also offers accounts that come with minimum terms, albeit, these offer higher rates of interest. As far as the investments itself, the team at Iban Wallet focuses on crowdlending opportunities.
Upon browsing through its website, Iban is kind of confusing as to what happens to your money once you invest, so we've outlined a few guidelines below.
- Firstly you deposit funds into Iban.
- The platform will then loan the funds out to third-parties.
- Those borrowing the funds need to put assets up as collateral.
- This ensures that the loan agreement is backed by actual world assets.
- Borrowers repay the money to the underwriter, who then forwards the cash to Iban
As you can see from the example above, you are essentially engaging in a peer-to-peer loan program. However, the overarching benefit of doing this through Iban Wallet is that the entire process is managed on your behalf.
First and foremost, Iban Wallet is not a bank or investment house. On the contrary, they are merely a middleman between you and those that seek to borrow money. So acting as one, when you deposit funds into Iban, your money will then be used to fund external loans. This simulates a conventional peer-to-peer lending site. The key difference is that you will not get to choose to whom you lend the money to. Iban does that for you. You will not be given the opportunity to choose who you lend the money to, nor will you need to worry about collecting payments. That's why Iban, as mentioned in the beginning, has been set up for those that seek passive income. It collaborates with a number of third-party underwriters, who then deal directly with the end borrower. In that way, it is the underwriter themselves that will perform the required due diligence on the borrower. This includes the fundamentals surrounding creditworthiness, affordability, and interest rates.
Unlike other peer-to-peer lending sites, the underwriters that are partnered with Iban only issue asset-backed loans. So those borrowing funds will do so only by putting up collateral. This means that the loan is backed by the guarantee of a house, car, or money upfront before receiving the funds. From the investors' point of view, this adds an element of security on the loan, as you will have the legal remit to seize the asset in the event of non-payment. And if you're thinking, asset seizures are not only costly but timely, too, Iban Wallet offers a buyback guarantee. They provide investors with a transparent way to get a return on their funds.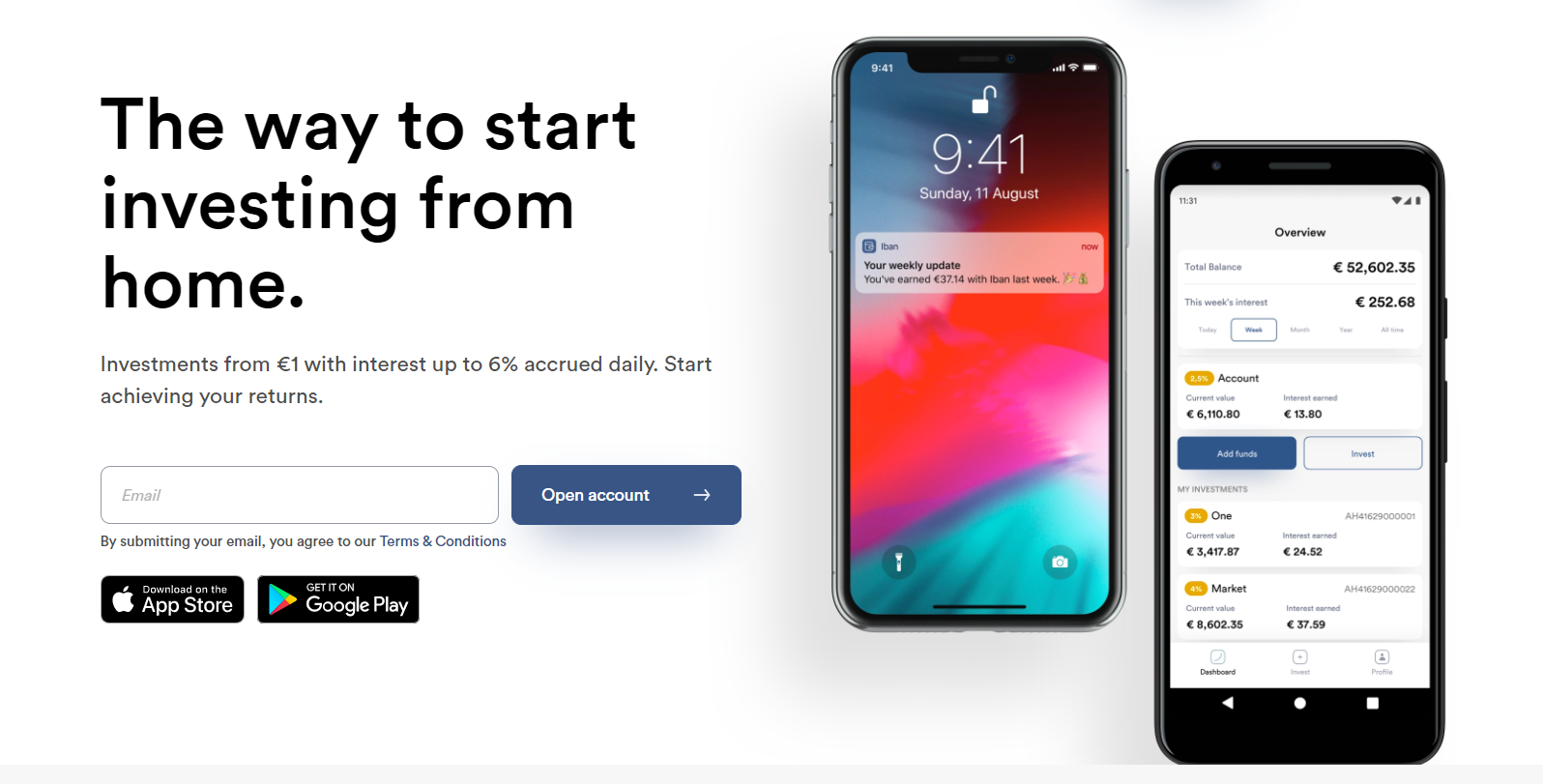 History
Iban Wallet was first launched in 2016. Iban Wallet" is the title of New Generation Market SIA, a business with company number 40203215233, with its head office in Oberwallstraße 6, 10117 Berlin, Germany and registered in Latvia.
Account Types
As you'll see once you visit Iban website, the platform offers between 2.5% AER and 6% AER.
However this amount is not guaranteed and varies depending on how much you are willing to invest, but also because these figures are projections.
There are four account types you can choose from.
Iban account:
You can start investing by only €1. Interest is aimed to be accrued every day and there is no minimum term for the Iban account. This means that your funds can be withdrawn whenever you desire to do so.
One Account:
If you're looking to earn a higher amount of interest, then you might want to consider the One account. This pays a projected annual yield of 3% AER. There is a number of factors that you need to be aware of in choosing the One account over the standard account. Firstly, you need to make a minimum deposit of at least $1,000. Although the interest amounts to 3% annually, it is compounded on an annual basis, while the standard account does this daily. The most important consideration about the One account is the minimum term. While the standard account allows you to make withdrawals at any given time, you will be locked into a 1-year term. If you find that you need to access your cash before the term concludes, you will be penalized. This amounts to 2.5% of the amount held in your account. However, the fee cannot exceed your original investment, so you will always get at least what you put in. Nevertheless, if you feel that there is a chance that you will need to access your cash early, you'll be best to stick with the standard Iban account.
Market Account:
Next up is that of the Market account, which offers a projected annual yield of 4% AER. Much like the One account, the Market account requires a minimum deposit of $1,000. However, this is the only common ground between the two types of accounts. The Market account requires a minimum term of 3 years. This means that you will have to pay the 2.5% early activation fee in the event you need to access your cash early. The second consideration that you need to make is that the Market account begins to pay interest daily after the 3-year term has concluded. With that being said, a projected annual yield of 4% more than makes up for this.
Dynamic Account:
The highest paying account type at Iban Wallet is that of its Dynamic account. This will give you the chance to earn up to 6% AER. However big outcomes come with big investments. Your initial deposit need to be at least $50,000. Even if you can afford to invest $50,000, you need to make sure whether you're comfortable with the risk. Moving on, the Dynamic account also requires a minimum term of 5 years.As is the case with both the One and Market accounts, early access to your cash will come with a 2.5% fee. Finally, while all other account types at Iban will compound the interest, the Dynamic account applies a simple interest calculation. On the other hand, the Dynamic account will pay interest on a daily basis, so there's no need to wait for the term to mature like the One and Market accounts.
When you open an account for the first time at the platform, you will automatically be placed on to its standard Iban Account. But as you can see, with the latter three accounts you get projected higher returns. You will, however, have to agree to a minimum term (1, 3, or 5 years respectively).

Customer Support
Iban wallet has country-specific websites. This basically means that the experience is tailored to the user's nationality and account currency. Customer support is offered in more than 3 languages and they are aiming to expand to even more. Iban Wallet offers quite a few customer support channels. The easiest way to make contact with the customer service team is via live chat. If live chat doesn't meet your needs there are local toll numbers so you can speak directly with a customer support representative. Moreover, you can send an email at This email address is being protected from spambots. You need JavaScript enabled to view it., or make contact via social media. Iban wallet can be reached through Facebook, Instagram, Linkedin, and Twitter.
As far as reviews are concerned, Iban Wallet has a "Great" TrustPilot score of 4/5.
Creating an account takes less than 5 minutes:
Requirements:
1) You need to be at least 18 years old and be a resident in one of the countries in which Iban offers its services.
2) Adding funds to your account:
The minimum investment amount is as small as 1€/$ !
To fund the account the investor can either use debit/credit card (only needs to insert card details) or choose a SEPA transfer. Iban currently offers accounts in EUR, USD, and MXN. Depending on your country of residence, your account currency will be stated in either USD or EUR.
Iban Wallet Supported Countries:
Although Iban Wallet was initially created for Europe's mainland, the platform has since extended to other parts of the world. Notably, this includes the US, but excludes the UK. We have listed all the countries that Iban currently supports below.
Andorra, Argentina, Australia, Austria, Belgium, Brazil, Canada, Chile, China, Croatia, Cyprus, Czech Republic, Denmark, Estonia, Finland, France, Germany, Greece, Hungary, Ireland, Italy, Japan, Lithuania, Luxembourg, Malta, Mexico, Morocco, Netherlands, Norway, Poland, Portugal, Romania, Slovenia, Spain, Sweden, Switzerland, Taiwan, United States of America.
You can open an account as an individual or a business.
KYC:
In order to remain compliant with all relevant laws surrounding anti-money laundering and terrorist financing, Iban Wallet is required to identify each and every user that opens an account. Known as 'KYC' (Know Your Customer), you will initially need to confirm your mobile number via an SMS code. Next, you will be asked to upload a copy of your government-issued ID. This can usually be a passport, driver's license, or residency card. Take note, your ID must be from one of the supported countries listed above. If it isn't, you won't be able to open an account. Iban Wallet also notes that it might be required to request additional information from you. This will definitely be the case if you proceed with the $50,000 minimum deposit that comes with the Dynamic account. You should expect to upload a proof of address in this event, as well as a proof of source of funds.
Multi-Step Identity Protection:
On top of providing a range of security measures for the investor, Iban Wallet also offers institutional-grade security on your account. If you're logging in with your mobile phone, then you will have the option of setting up biometric protections. This includes fingerprint or facial recognition.If you choose to log in with your desktop device, then you will need to pass two-factor authentication, which is obligatory.
Depositing and Withdrawing Funds:
When it comes to depositing funds at Iban Wallet, you can do this via a debit/credit card, Revolut (free Euro transfers) or bank transfer. The latter will go through the SEPA network if you're based in the Euro Zone, meaning that transfers are both free and fast. If you're based outside of Europe, this will need to go through SWIFT. While Iban will not charge you for making a bank transfer via SWIFT, the sending bank likely will. Both SEPA and SWIFT transfers are usually credited within 24 hours of Iban receiving the funds. If opting for a debit/credit card payment, then this is usually credited instantly. In terms of withdrawing funds out of Iban, this needs to be sent back to the same bank account that you used to make a deposit. If you deposited funds with a debit/credit card, then you'll need to link your bank account before a withdrawal can be made. There are no fees to make a withdrawal but do remember that you will pay a 2.5% early activation fee if cashing out before your respective Iban account term matures.
Regulation & Safety
Iban wallet works with an extensive pool of loan originators from various countries, who offer multiple types of loans, return rates and deposit terms. It also checks, through an extensive due diligence process that every loan originator follows strict risk standards. Iban Wallet provides numerous layers of security, accounts are invested in asset-backed loans, have a Buyback Guarantee and a Safeguard Trust which has covered all bad loans since it launched.
Asset-backed means that Iban only invests in loans that have collateral – if the borrower were to fail the repayment of the loan they hold, the loan originator would redeem the property (collateral) in order to settle the debt.
The Buyback Guarantee ensures that if it takes more than 90 days for an investor to be paid back, the Buyback Guarantee will repurchase the loan for the nominal value of the principal and the accrued interest until the date of repurchase.
Safeguard Trust is a provision capital account with reserve funds, which provides another layer of protection for investors if a Loan Originator fails to administer an investment. Safeguard Trust is funded by a proportional monthly balance that's set to the side. Your funds are deposited in an Electronic Money Institution (EMI) regulated by the European Central Bank. Although the specific institution is not given, the EMI complies with all relevant laws and regulations surrounding consumer protection. Please note that in the Dynamic account there is no Safeguard Trust
The trust acts as a reserve fund, and it is managed by Iban itself.
All-in-all, although there is never any guarantee on the safety of your funds, Iban Wallet has installed a number of protections to cover all potential issues.
Desktop & Mobile Platforms
This platform boasts a sleek design and seamless experience across all devices (web, android, and iOS).The Iban wallet mobile app is an easy platform to manage your investment and keep on top of things without needing to login to the website. It's much more convenient in my opinion and a plus for this investment platform.It is available for both Apple and Android devices.
Fees
There are no fees for you as a user, including transfers and withdrawals.The only fee that you need to be made aware of is that of the early termination fee if you have set either the One, Market or Dynamic Account.

Pros and Cons
Pros
One of the biggest "assets" Iban wallet holds it its simplicity. Iban wallet is an app and service extremely easy in use. It is excellently designed for both Android and iOS while being very innovative. Responsiveness of Customer Support has much bad feedback online but my personal experience was much different. I submitted the wrong documents when opening my account and the staff was responsive, competent and cordial. Once they realized I am a German native speaker they even transferred me to an agent who speaks German as well. It has a low investment requirement – start with €1 with no term limit and it provides strong investor protection. It has daily interest payments, high liquidity, diverse risk profiles, and buyback guarantee.
Cons
Iban Wallet is a rather new platform and therefore hasn't been tested in time.
The returns are lower than its competitors while it is rather unclear where the assets are held. In other words
- plain lack of transparency
- No publicly of financial statements for the previous years